Site mostra tabelão contendo os apps mais populares em App Stores de todo o mundo
Achei isso aqui.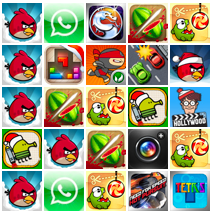 Fiquei impressionado ao acessar o App Annie: ele tem uma tabela completíssima dos apps para iPhone/iPod touch mais populares em todo o mundo, separados entre pagos, gratuitos e mais lucrativos.
Um detalhe bem legal é que, além de completa, ela mostra os ícones de todos os apps e, se isso não for o suficiente para reconhecê-los, basta passar o mouse por cima de cada um para ver seu nome ou clicar nele para ter mais informações, incluindo descrição, preço e link para a App Store.
Ainda é possível ver as listas de apps mais populares por categoria, ou ver todas as categorias de um país — aqui está a tabela do Brasil, por exemplo, totalmente desprovida de jogos. E, claro, ainda há um conjunto de tabelas dedicadas aos apps para iPad.
Se você quiser rankings mais abrangentes, pode ainda ver tabelas com os 500 apps mais populares, seja por país ou por categoria, podendo ainda separar os que têm In App Purchases dos que são de compra única. Infelizmente, essas tabelas não trazem ícones, sendo um pouco mais monótonas.
[dica do Lucas do Monte]
This entry was posted by (author unknown) on 2010-12-29 at 23:14, and is filed under Uncategorized. Follow any responses to this post through RSS 2.0. You can skip to the end and leave a response. Pinging is currently not allowed.
This site uses Akismet to reduce spam. Learn how your comment data is processed.