Posts tagged
apps
0
Achei isso aqui.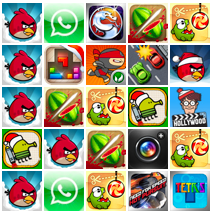 Fiquei impressionado ao acessar o App Annie: ele tem uma tabela completíssima dos apps para iPhone/iPod touch mais populares em todo o mundo, separados entre pagos, gratuitos e mais lucrativos.
Um detalhe bem legal é que, além de completa, ela mostra os ícones de todos os apps e, se isso não for o suficiente para reconhecê-los, basta passar o mouse por cima de cada um para ver seu nome ou clicar nele para ter mais informações, incluindo descrição, preço e link para a App Store.
Ainda é possível ver as listas de apps mais populares por categoria, ou ver todas as categorias de um país — aqui está a tabela do Brasil, por exemplo, totalmente desprovida de jogos. E, claro, ainda há um conjunto de tabelas dedicadas aos apps para iPad.
Se você quiser rankings mais abrangentes, pode ainda ver tabelas com os 500 apps mais populares, seja por país ou por categoria, podendo ainda separar os que têm In App Purchases dos que são de compra única. Infelizmente, essas tabelas não trazem ícones, sendo um pouco mais monótonas.
[dica do Lucas do Monte]
0
Achei isso aqui.
Taking a smartphone out of the box for the first time can elicit a wide spectrum of emotions, starting with unadulterated excitement that can quickly devolve into panic, chaos, and confusion: what do you do now? How do you make it awesome? How do you emanate an air of "cool" on the subway by using apps specifically designed to make you look like a badass? Well, fear not, newly-minted Android smartphone owner: as always, we've got your back. Read on for all the apps, accessories, and tips you should be investigating right this very second.
Continue reading Just got an Android phone? The best apps, accessories, and tips
Just got an Android phone? The best apps, accessories, and tips originally appeared on Engadget on Mon, 27 Dec 2010 17:20:00 EDT. Please see our terms for use of feeds.
Permalink   |   | Email this | Comments