Posts tagged
software
0
Achei isso aqui.
0
Achei isso aqui.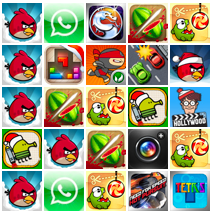 Fiquei impressionado ao acessar o App Annie: ele tem uma tabela completíssima dos apps para iPhone/iPod touch mais populares em todo o mundo, separados entre pagos, gratuitos e mais lucrativos.
Um detalhe bem legal é que, além de completa, ela mostra os ícones de todos os apps e, se isso não for o suficiente para reconhecê-los, basta passar o mouse por cima de cada um para ver seu nome ou clicar nele para ter mais informações, incluindo descrição, preço e link para a App Store.
Ainda é possível ver as listas de apps mais populares por categoria, ou ver todas as categorias de um país — aqui está a tabela do Brasil, por exemplo, totalmente desprovida de jogos. E, claro, ainda há um conjunto de tabelas dedicadas aos apps para iPad.
Se você quiser rankings mais abrangentes, pode ainda ver tabelas com os 500 apps mais populares, seja por país ou por categoria, podendo ainda separar os que têm In App Purchases dos que são de compra única. Infelizmente, essas tabelas não trazem ícones, sendo um pouco mais monótonas.
[dica do Lucas do Monte]
0
Achei isso aqui.
You may have gifts for every family member under your Yuletide tree, but we're willing to bet you haven't given much thought to your trusty media center PC. Thankfully, the open-source community once again has a ready-made present, ready to be loaded right now — the 10.0 release of XBMC, filled with goodies and toys. It's available for Windows, Linux, Mac and even the original Apple TV, and brings a brand-new add-on manager that lets you extend functionality and improve appearance right from the UI. There's also hardware acceleration for every platform, including special consideration for nettops sporting NVIDIA ION 2 or Broadcom Crystal HD chips, and even the underpinnings of support for Windows 7 touchscreens, ARM processors and OpenGL ES 2.0. The catalog of improvements is honestly rather staggering, so rather than read them all here, you can follow our source links to the full changelog and download pages, while we try to spread the Christmahanukwanzaakah cheer.
[Thanks to everyone who sent this in]
XBMC 10.0 'Dharma' now available to download with improvements galore, add-on manager and Apple TV support originally appeared on Engadget on Sun, 19 Dec 2010 13:08:00 EDT. Please see our terms for use of feeds.
Permalink   | 
XBMC  | Email this | Comments